Special Care Planning
What is SpecialCareSM ?
A program that offers information, specialists, and financial solutions to people with disabilities and other special needs and their families
SpecialCare begins by providing our clients access to a compilation of information - from what they need to know to provide the best care to their loved one to how to manage the needs of themselves and other family members
For parents of a loved one with special needs there is a poignant realization that there may come a time, through sickness, disability or death, when you will not be able to provide care for them
This planning process involves a broad range of decisions and plans designed to secure the future
The right planning can ensure your loved one has the resources to improve his or her quality of life, now and in the future. Our planners can perform a complete review of your financial situation, offer customized options that coordinate with government programs, and develop a Life Care Plan for your loved one.
10 Step Planning Process
Address Primary Issues
Create a Special Care Vision
Choose Guardian(s) & Trustee(s)
Identify Financial Resources
Determine Plan/Care Costs
Prepare Letter of Intent
Prepare Will(s)
Establish Special Needs Trust
Hold Family Meeting
Review Plan Annually
Person Centered Planning Process: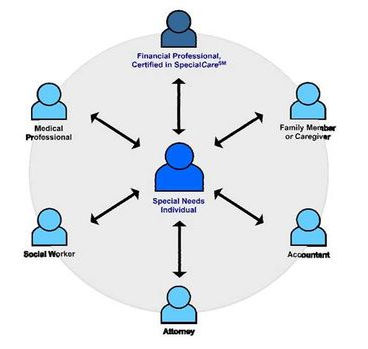 The Special Care Planner receives advanced training and information in estate and tax planning concepts, special needs trusts, government programs, and the emotional dynamics of working with people with disabilities and other special needs and their families. The certificate program is offered by The American College in Bryn Mawr, PA, exclusively for Massachusetts Mutual Life Insurance Company (MassMutual) financial professionals. is a program exclusive to MassMutual that provides access to information, specialists and financial products and services.
SpecialCareSM